Submarines and Aircraft Carriers
Saturday, 16th April 2005 by James Turnbull
I didn't expect submarines to be found easily, but we've actually had quite a few. The first is in Point Loma peninsula in San Diego Harbor, CA. Directly in the centre of that map, next to the dock, is a narrow black torpedo-looking thing. That's the submarine.
The Norfolk, VA naval base is apparently the biggest naval station in the world. You can see at least 4 submarines, 2 air carriers, 2 helicopter carriers and 27 other warships.
In NYC is the USS Intrepid museum, a carrier from the Vietnam War. There's some ground level shots and a map of the different planes parked here on the Intrepid Museum site. On the northeast side of the pier is the USS Growler, "the only intact strategic nuclear missile submarine open to the public anywhere in the world."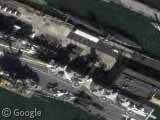 The USS Growler and USS Intrepid
Thanks: Andrew, punk floyd, Kyle Siwek