Ming Class Submarine
Tuesday, 22nd August 2006 by James Turnbull
Please note that some or all of the objects mentioned in this post are no longer visible on Google Earth or Google Maps.
A long time ago, way back when this website began, I thought that spotting submarines on satellite photographs would be very unlikely, what with them travelling underwater most of the time.
As it turned out there are a lot of submarines sitting about on land, but it has taken a while for someone to find a travelling submarine. This Ming class diesel submarine is on its way back to Lushun Naval Base where there's a few more docked up.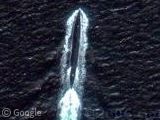 Thanks to Bill Preston.