A Lost Submarine
Wednesday, 28th May 2008 by James Turnbull
The town of Holbrook, Australia, is notable as home to the only set of traffic lights between Sydney and Melbourne. Slightly more interesting though is that here, 160 miles inland we can plainly see a full-size submarine.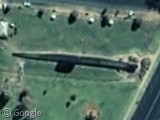 Originally this place was known as Germantown (a name that didn't sit too well during WWI), so they chose the new name to honour Lieutenant Norman Douglas Holbrook, a British submarine captain who had been awarded the highest military decoration, the Victoria Cross.
80 years later the town was gifted the stern section of the HMAS Otway, an ex-Royal Australian Navy submarine. Despite Lt. Holbrook not having had anything to do with this particular submarine, the residents had by now fallen in love with all things submarine, and subsequently tried to raise funds to purchase the rest of the decommissioned vessel.
Unfortunately, even with a large donation from Holbrook's widow, they only raised enough cash to purchase the top half, which is what we see protruding from the ground here.
Read more on the sub over at Wikipedia and see ground level pictures on Flickr.
Thanks to Simon Burgess.