Google Earth Web Plugin Released
Wednesday, 28th May 2008 by James Turnbull
The newly released Google Earth Web Plugin allows you to access the 3D globe of Google Earth, right within your browser.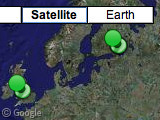 You can give it a go right now as we've enabled the Google Earth mode on our map page1. Let us know how you get on in the comments.
You can read more about the announcement on O'reilly and Google Earth Blog.
---
The web plugin is currently only available for Windows PCs, but Mac and Linux support is supposedly "coming soon". ↩