Elusive Submarines
Tuesday, 17th July 2007 by James Turnbull
While on holiday we missed the news of a new Chinese nuclear submarine being spotted on Google Earth.
Not much is known about the new class of Ballistic Missile Submarine, which is called the Jin-class or Type 094, but the US government estimated last year that China might build 5 of them to act as a permanent sea-based deterrent.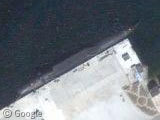 While we're on the subject of elusive submarines, this brown looking mini-submarine is in fact a real-life Yellow Submarine!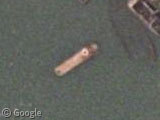 It was built by an enterprising chap from Brooklyn who intended to recover the treasures of the sunken Andrea Doria, which wrecked on its way to New York city in 1956. With investment from the locals he designed and built the mini-sub himself, painting it yellow because it was the cheapest paint to hand.
Unfortunately, during its launch in 1970, the submarine sank (unintentionally) and the locals weren't prepared to continue to invest in the builder's madcap idea. The sub was eventually scavenged itself, and its rotting shell remains abandoned in the small ship graveyard of Coney Island Creek.
The full history and pictures from the past and present of the submarine are available on Forgotten NY
Thanks: Thomas Paul