Majesty of the Seas
Monday, 5th February 2007 by James Turnbull
Most driveways around the world are reserved for parking the family car, but 58 year old ex-coal miner Francois Zanella uses his driveway to park his personal home-made cruise ship.
The ship is a 1/8th reproduction of the Royal Caribbean International cruise-liner, Majesty of the Seas. Mr. Zanella spent 11 years constructing it, by hand, in his hometown of Morsbach, Moselle, France. With sponsorship from various local companies he built the hull, installed two 100 hp engines, decorated the 160m² internal living space and eventually launched the vessel on 23 June 2005.
At 33.5m long, 4.75m wide and 90 tons the mini-Majesty of the Seas is a fully functional canal boat and is now driven around the canals of Europe. This photo of Mr. Zanella gives a good idea of the ship's scale.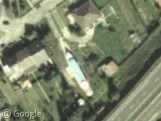 The real Majesty of the Seas is also available on Google Earth, seen here docked in the Port of Miami. However, this version certainly won't fit in the canals of Europe – it weighs 73,941 gross tons and accommodates up to 2,744 passengers whilst cruising around Nassau, Coco Cay and Key West.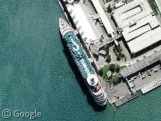 The whole story of Francois' model, and Wikipedia for Majesty of the Seas and Majesty of the Seas (mini).
Thanks: Mathieu Mangeot & Aurelien_F & OGO50