World's Largest Rubber Stamp
Monday, 8th December 2008 by Ian Brown
Continuing our exploration of World's Largest trivia – in Cleveland, Ohio we find the World's Largest Rubber Stamp.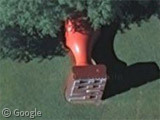 The Free Stamp – a pop art sculpture created by Claes Oldenburg and Coosje van Bruggen quickly became the centre of controversy. It was originally commissioned by Standard Oil of Ohio, but an ownership change and fears of a public backlash in an economically struggling city meant construction was halted. The components were kept in storage for a number of years.
It was finally put on public display in Willard Park in the early 1990s, when BP America agreed to donate it to the city but pay for the maintenance. The stamp is 8m tall and almost 15m long, its bulk clearly apparent on Street View.
Unfortunately, it appears that the current economic climate has also had an impact on the location.
Now if only we can track down the world's largest inkpad …
Thanks to Rich Holmes and Keith.
Google Sightseeing has previously featured a number of works by the same artist: Saw, Sawing, Dropped Cone, and Spoonbridge and Cherry.