Cirque du Soleil
Thursday, 25th August 2005 by Alex Turnbull
This is the Cirque du Soleil in Montreal. Well, it's one of them anyway.. the 'Circus of the Sun' is an entertainment company founded in 1984 by former fire-eater Guy Laliberté, and actually consists of at least 11 different troups of performers (Wikipedia page).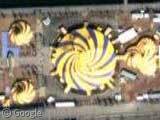 Cirque du Soleil isn't a circus in the traditional sense (because they don't use any animals), but they do all sorts of stuff involving contortionists, jugglers, feats of strength, clowning, and trapeze artists. You can see one of their travelling set-ups in what is usually an empty car park in Minneapolis. Just north of here is Saint Anthony Falls, which also looks pretty cool from up here.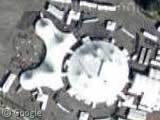 I saw one of their performances once in the Albert Hall, and I thoroughly recommened checking them out if you get the chance, it's incredible stuff. As it happens, they'll be performing permanently at the Tokyo Disney Resort beginning in 2008 if you're planning a trip!
Thanks to Lowrent, Jean-Sébastien, Dauns, Robert Craig, Eric Veilleux and Andy.