Kuwait Towers
Thursday, 18th August 2005 by James Turnbull
The Kuwait Towers are on the waterfront in Kuwait City. Built in 1979 these three towers have a dual function as both entertainment facilities and water reservoirs but you'll probably recognise them from the backdrop of every news report that has been broadcast from Kuwait. I wonder if they have a little cordoned off area for international correspondents to do their reports from?
The largest tower has two spheres, the upper is a revolving observation deck with cafeteria and the lower sphere has 3 restaurants in the top part and a one million gallon water reservoir in the bottom. It's easiest to make out the spheres in the tower's shadow.
The middle sized tower has another one million gallon water reservoir in the sphere and lastly the thin tower has 96 concealed spotlights which illuminate the other two towers and the surrounding area.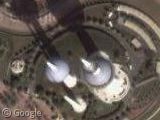 Also in Kuwait is the Liberation Tower, built in 1996 to celebrate Kuwait's liberation from the occupying Iraqis. At the time of construction it was the third tallest tower in the world at 1221 feet but now it has been relegated to 11th place.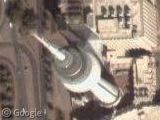 Thanks: Samer, Kenny, JKO, B.J. Olejnik, David Lawrence, David Lawrence, Mark, Erin, Erin, Magdalena Michel, Alrayyes & Freddie M