Europe's Largest Wooden Building
Thursday, 18th August 2005 by Alex Turnbull
This is Eski Rum Yetimhanesi, on the island of Buyukada off the coast of Istanbul, Turkey. I can't verify this as Wikipedia doesn't seem to have any information, but apparently:
it was built as a hotel, although it never received permission from the government to operate as one, so a rich Greek family bought it and donated it to the church, which used it as an orphanage until the 1970s. Since then, it's been empty.
The building is 101 metres long and around 24 metres high, and appears to be the largest wooden building in Europe (although that's assuming you choose to decide that Turkey is in Europe, and not Asia… because the Todaiji temple in Japan (Wikipedia page) claims to be the biggest in the world).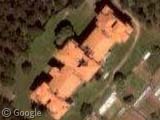 Thanks to deniz erdem.