Roadrunner Lake Resort
Wednesday, 19th October 2005 by Alex Turnbull
Just outside of Scottsdale, Arizona, lies this totally bizarre little patch of buildings. Sitting isolated out in the desert, these structures are packed into perfectly regular square... and as far as I can see, for absolutely no good reason - there's loads of space!
Switching on map mode reveals that this is Roadrunner Lake Resort, which makes me wonder, where's the lake? Anyway, it seems that this is a retirement community, so I guess all the wrinklies have been packed off into the desert... presumably so they won't bother their children too much with all that 'being alive' stuff.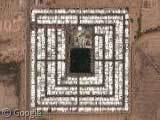 Thanks to Ivan Medovikov.