Sea Launch
Tuesday, 18th October 2005 by James Turnbull
The satellite launch system "Sea Launch" is moored in the Long Beach Harbor, Long Beach, California.
Satellites are launched from the "Odyssey Launch Platform", a semi-submersible former oil rig, after it has been towed out to the equator. The platform is accompanied by "Sea Launch Commander", the Scottish-built ship moored just to east, which provides mission control and crew accomodation.
For more on Sea Launch see the official site.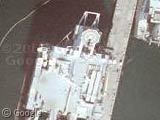 Thanks: Luke Crook, Mikhail & Monkey