Playground World Map
Thursday, 3rd November 2005 by Alex Turnbull
Please note that some or all of the objects mentioned in this post are no longer visible on Google Earth or Google Maps.
Here's yet another world map on Google Maps, this time in what looks like a school playground, and for once the map is the right way up!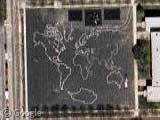 Thanks again to Kevin.