Celeb Spotting
Saturday, 24th December 2005 by James Turnbull
Possibly the greatest basketball player of all time, Michael Jordan's 29,000-square-foot estate near Chicago features a basketball court (of course) as well as a tennis court and putting green. Loads more info and pictures here.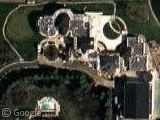 Bill Gates' 40,000-square-foot mansion in Washington is a constantly requested sight, but is in fact quite boring to look at from above (apparently it's mostly underground). Loads more info and pictures here.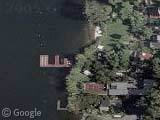 George Foreman's Texas home is still being constructed in the satellite photo, but he's so proud of the finished building that he's put his name on it. The large building on the East side is the 64 car garage.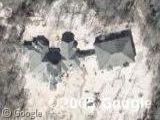 Muhammad Ali's Michigan home is currently for sale but for your $3,200,000 you only get a measly 2 bedrooms and 3 bathrooms. However, the 81 acre plot does feature a gymnasium, steam room, tennis & basketball courts and full size boxing ring. More pictures on the Real Estate listing.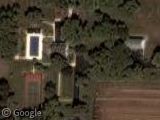 The Californian coastline mansion with a tear shaped swimming pool is home to Barbara Streisand who famously tried to sue an aerial photography website which featured her house in the middle of 12,000 photos of coastline (she lost the case). Loads more information and the offending photo here.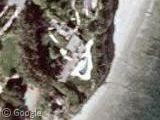 Thanks: MisterKen, randy phillips, Dennis, Pete, IvyMike, Matt, Ivan, Lois, Mile, Andrew, Heath, greg, Chris Blackwell, Andrey, mark, MC, Thomas van Longerich, Nelson, Slugs On Toast & Wifey!