Giant Chess
Saturday, 17th December 2005 by James Turnbull
On the even years in the month of September, the locals of Marostica, North Italy play human chess on this Giant Chess Board.
The event dates back to 1454 when a Lord decided to marry off his two daughters to the winner (and loser) of the giant chess game. The pieces dressed in full costume (the knights are of course on real horses) and the two suitors commanded the moves. The winner of the game was to marry the elder sister while the loser got to marry the younger (I bet she was thrilled with the idea).
More info and pictures on the official website.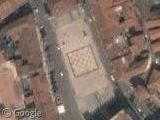 Thanks: Alessandro G.