The Cerne Abbas Giant
Wednesday, 13th June 2007 by Alex Turnbull
This is the fantastic Cerne Abbas Giant, a 55 metre (180 foot) high chalk figure carved into a hillside near the village of Cerne Abbas, England. In his right hand the giant holds a 36.5 metre long club, and of course it's impossible to miss that the Cerne Abbas Giant is, uh.. giant in every way.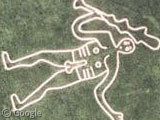 Like many chalk figures carved into the English countryside, the Cerne Abbas giant is often thought of as an ancient creation – however, its history can't actually be traced back further than the late 17th century – making it (a relatively sprightly) 400 years old.
As for the Giant's purpose, Wikipedia says:
for hundreds of years it was local custom to erect a maypole within the earthwork about which childless couples would dance to promote fertility and even today childless couples are known to visit the site in order to copulate in the hope that they might have a child.
Now that would have been an interesting find!
Thanks to PapaPenguin, Fred Bobardo, and Anthony Houghton.