More Puerile Roof Art
Friday, 24th August 2007 by Alex Turnbull
Actually, you could barely call this childish scrawl on the roof of a French University "art" (stop sniggering).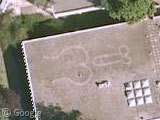 By my calculations (yes, I measured), at around 7.7 metres this is actually the smallest of the penises so far found on Google Earth. Slightly smaller than the English School roof one (7.9 metres), a bit smaller than the Cerne Abbas Giant's 8.3 metre member, and completely dwarfed by the massive 53.4 metre phallus etched into this frozen lake in Connecticut.
However at 7.98 metres across, I'm pretty sure this qualifies as the world's largest drawing of an arse.
See also: The Pen 15 Club, Rude Alien Crop Art and The Cerne Abbas Giant.
Thanks to Arno and Eric.