Pen 15 Club
Thursday, 14th December 2006 by Alex Turnbull
Please note that some or all of the objects mentioned in this post are no longer visible on Google Earth or Google Maps.
Here at Yarm School Teesside, England, the pupils are performing better than most in the schools league tables. They've also impressively managed to get themselves featured on GSS, by drawing a picture on the roof of one of their school's buildings...
Congratulations kids, you've very likely created the only visible penis on Google Earth.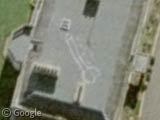 Update: Reader Evan found this awesome (and much larger and therefore better) penis drawn on the surface of a frozen pond in Connecticut!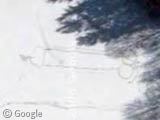 Thanks to Matt and Evan.