Weekend in Dublin
Thursday, 22nd December 2005 by Alex Turnbull
My slackness in posting any sights so far this week is entirely the fault of the Edinburgh design agency where I work, who insisted on taking us all to Dublin this past weekend for our Christmas party! Anyway, the Guinness has finally worn off and I'm ready to report some of my findings.
Our first port of call was, naturally, Dublin Airport which has some cool car park ramps (okay, so they might be cooler from the ground). There's a plane just about to touch down on the runway here too.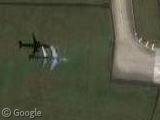 On our way into Dublin we passed an enormous stadium, which turned out to be Croke Park, an 80,000 seater stadium where sports such as Gaelic Football and Hurling are played. Interestingly, although the teams play in front of 80,000 people the players do not get paid, as Gaelic games are completely amateur.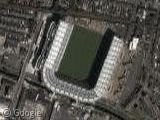 Croke Park will be a lot busier in the near future, as Lansdowne Road is due to be redeveloped, at which time all their games will relocate to Croke Park.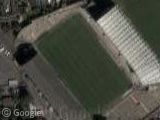 We were staying in the Trinity Capital Hotel which was lovely, extremely central, and right next to Trinity college, the oldest University in Ireland. Trinity was founded in 1592 and although this makes it a lot younger than the other ancient universities of Britain and Ireland, in 1904 it actually became the first of them to admit women. Trinity College is also the location of the Book of Kells, which is on permanent display in the university library.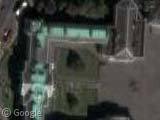 After we dumped our things at the hotel, we all went off for a spot of sightseeing... Well actually, that mostly involved drinking Guinness in Temple Bar... but we did spot the previously posted Spire of Dublin off in the distance, which currently has some pretty Christmas lights on it.
That night we went to a club called Pod, where we danced the night away, before walking back to the hotel past St. Stephen's Green - where it seems every girl in Dublin tried to find out if I had anything on under my kilt...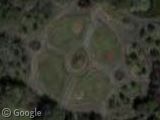 On Sunday we went to the Guinness Storehouse, a seven-storey building devoted to the history, advertising and (most importantly) the drinking of Guinness. The central circle in the satellite image is the glass roof of a huge circular space the whole height of the building - and you can see the view from the other direction in my photo. The slightly offset circle to the east is the Gravity bar, where visitors can collect their free pint and take in a spectacular 360° view of the whole of Dublin.
Walking home we passed Christ Church Cathedral, the oldest building in Dublin, which has been standing here in one form or another since it was founded in 1038. It also holds the world record for largest number of bells that are rung full circle. There's 19 of them! I took the photo facing north, and you can see where the church has been built over the road in both shots.
Phew, I think that's me finally done! Dublin was fantastic, although it makes you realise what we miss out on when we virtually sightsee... 'cos there's no Craic in satellite photos!
Thanks to Tiernan O'Toole, Mark, David Knighton, Frank Smyth, Steve Hogarty, Doug Hawkins, Buzzzzz, AlaskaFox, Martin Sinnott and everyone at Whitespace!