The Spire of Dublin
Friday, 10th December 2010 by Ian Brown
We briefly visited the Spire of Dublin more than five years ago. With the arrival of Street View in Ireland we figure it's time to take a more detailed look at this elegant tower which is the world's tallest sculpture.
Construction of the 121m tall Spire took place in late 2002 and early 2003. It's actually an elongated cone, tapering from a base diameter of 3m to just 15cm at the top.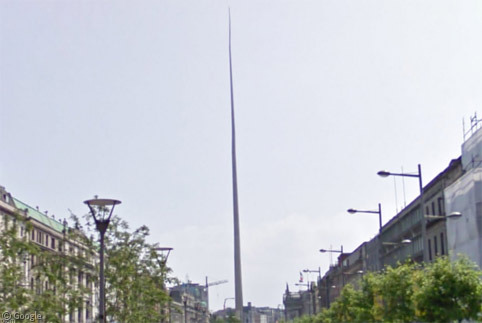 Forty four individual steel plates were forged to specific dimensions then precision welded into eight sections. Each section was given a perfect finish in a custom-made polishing machine, before undergoing shot peening – repeated blasting with metal balls1 to create a less reflective surface.
The bottom ten metres of the Spire are etched with a pattern based on a core sample drilled at this location before it was built. A protective coating was digitally plotted onto this section before the shot peening process, leaving the original polished surface intact.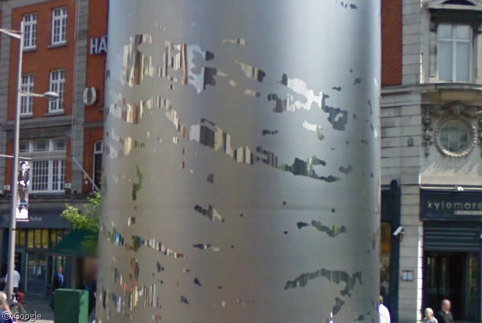 The uppermost section of the Spire is perforated to allow decorative lighting to be seen at night. An internal drain collects rainwater which enters through the holes.
Also near the top is a tuned mass damper system intended to prevent the Spire from swaying precariously in high winds. Despite this the top can still move up to 1.5m in any direction! An internal ladder climbs two-thirds of the height of the structure to allow technicians to access this system if it needs maintenance – a climb we imagine would be rather nerve-wracking and claustrophobic!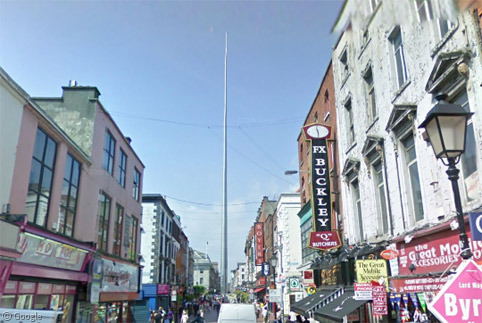 The Spire of Dublin was built on the former location of Nelson's Pillar, a monument which was destroyed by former IRA members in 1966. Since then O'Connell Street had been in commercial decline. An end-of-the-millennium project saw a number of modifications to the businesses along the street, as well as the tree- and statue-lined median. The tower was intended to be the centrepiece of a revitalised street, though reactions have been mixed2.
Learn more about the Spire of Dublin at Wikipedia, and the two companies responsible for its construction: Radley Engineering and SIAC.
---
The engineers say the shot peening process involved a tonne of stainless steel balls being shot at high pressure every 10 minutes! ↩

I note that our original post attracted a number of negative comments from locals. It would be interesting to hear from people 5 years on – have opinions changed? Have Dubliners grown to accept the Spire over time? ↩