Mexico City Megapost
Sunday, 29th January 2006 by
Mexico City is the capital city of Mexico and the second largest "Megacity" in the world after the Tokyo area. After centuries of pre-Columbian civilization, Spanish conquistador Hernán Cortés first arrived in the area of Mexico City in 1519. He didn't conquer the city until 1521, after a 79-day siege that destroyed most of the ancient Aztec city. In 1525 the rebuilt city served as the capital of "New Spain" and the political and cultural center of Mexico. The importance of the city was such that the colonies of Cuba, Florida, and the Philippines were administered from it. In the following centuries there were many different governments, rulers and revolutions for Mexico City leading to an extremely varied architectural and cultural style.
Chapultepec Castle
This castle which roughly translates as "Castle of Chapultepec" or "Chapultepec Palace" is a palace built on top of Chapultepec Hill, in the middle of Chapultepec Park. The palace has had many uses has been used during its history, including Military Academy, Imperial and Presidential residence, observatory and museum. It currently houses the Mexican National Museum of History.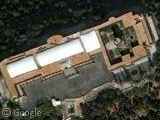 Thank cacafuego
Strange Colours
I'm guessing that this is some sort of image processing bug. As it crops up again, here and here. Anyone got any ideas?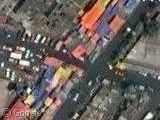 Thanks Carlos & Scott
Estadio Azteca
The Estadio Azteca or "Aztec Stadium" was the location of two FIFA World Cup finals in 1970 and 1986 and the only stadium to host 2 world cups. Opened in 1966, it is one of the largest stadiums in the world with a capacity of 114,600. In 1986 it hosted the quarter-final between Argentina and England in which Diego Maradona scored the so called "Hand of God" goal.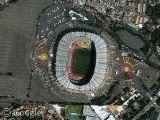 Thanks Carlotto, Eitan Nudel, cacafuego, redstar1, David Barrera, Monasteria, Arturo Hernández & Rod Farley
Big Spiral
I have no idea what this is. Looks like some sort of land-based sculpture.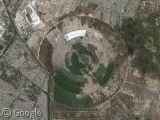 Thanks Larry PDX, Paul Overbeek & Dave
El Zócalo
El Zócalo is a large square officially called "Plaza de la Constitución". The square is surrounded by a Spanish-era Cathedral, the modern "Palacio Nacional" and some ancient Aztec temple ruins which were disovered during building works.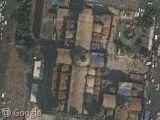 Thanks Eitan Nudel
Heroico Colegio Militar
This is the "Heroico Colegio Militar" Mexico's answer to the USA's West Point military academy.
It has some interesting architecture, a huge parade ground and check out the size of the flag and the shadow.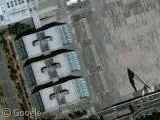 Thank cacafuego
Olympic Stadium
The University Olympic Stadium or "Estadio Olímpico Universitario" is a stadium that was built in 1952 and at that time was the largest stadium in Mexico. It has a capacity of nearly 73,000 seats. The stadium hosted the 1968 Olympic Games and was the location for the track & field competitions, football matches, the marathon and the opening & closing ceremonies. It is now the home stadium of the university american football and soccer teams "Pumas de la UNAM" and "Pumas de la Universidad".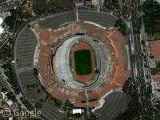 Thanks Maite & Elguero