Miniature Castles Megapost
Wednesday, 11th February 2009 by Ian Brown
We've explored many castles in the past on Google Sightseeing – whether large, illegal or remote – but there are many more diminutive castles out there worth exploring.
Nunney Castle in Somerset may be historic, but is barely larger than many houses in the village that surrounds it.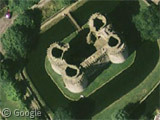 Broadway Tower in Worcestershire may be tall, but it's only large enough for one room on each of its three floors.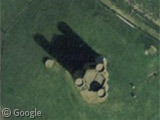 Burg Rabenstein is one of Germany's smallest castles, again barely larger than nearby houses.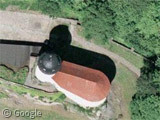 While an Englishman's home may be his castle – that's literally true for the residents of this home in Georgia, which is slightly less venerable than the castles mentioned above.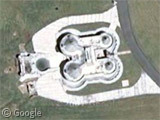 Constructed from local granite and marble, at around 140 square metres the castle is actually a fairly modest size compared to most suburban residences constructed these days.
The Street View car passed by under gloomy skies, giving the castle a brooding air as would befit a rather more historic castle in the old world.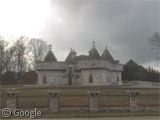 No self-respecting castle would be complete without a moat, and here it even opens up into a swimming pool behind the house, visible on Live Maps. There's even something resembling a gate house (which I assume is actually a pool house), and the whole property is also bordered by a suitably impressive fence.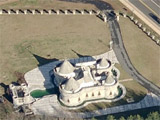 There are tiny castles all over the world – let us know of any in your area!
Thanks to Alex Makarishev and Dennis.