Bennie The Dinosaur
Sunday, 26th February 2006 by James Turnbull
Please note that some or all of the objects mentioned in this post are no longer visible on Google Earth or Google Maps.
Bennie was a fifty-foot tall, 15,000 pound brachiosaur with a shady past, who used to watch over the I-680 highway from this vantage point in Benicia, CA.
Before moving here Bennie used to live on the I-80 in Dixon, CA where he was originally installed, although without the necessary permits. In this past life Bennie was also a female dinosaur by the name of Dixie and at that time had a dinosaur egg at her feet. While in both locations Dixie/Bennie promoted cigarette smoking as the property of "Cigarettes Cheaper!", a now defunct chain of shops.
Dixie became Bennie back in 1998 when the gas station she was standing in front of was sold and the owners wanted their $150,000 dinosaur back. The move happened early in the morning when she was airlifted by helicopter to the company headquarters in Benica. Fossilfreak has some bizarre photos of the event.
With the collapse of the company sometime in 2005 Bennie was dismantled and offered for sale on eBay, although no-one could afford the reserve. Rumour has it that Bennie now lives in the garden of a former employee somewhere in the Suisun area north of Benicia. Maybe we'll be able to find him again on the next image update?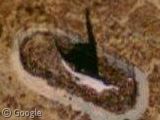 Thanks: Alexey N. Solofnenko