City of Lincoln
Wednesday, 8th February 2006 by James Turnbull
Please note that some or all of the objects mentioned in this post are no longer visible on Google Earth or Google Maps.
Of 7,377 WW2 Lancaster bombers built only two survive, one in Canada and the other in England as part of the Battle of Britain Memorial Flight. Last month a keen-eyed Google Earth user managed to find the English bomber, the City of Lincoln, flying over Huntingdon and this same image is now available in Google Local.
There's loads of ground level photos on airliners.net and more on the plane from the RAF.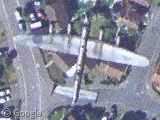 Thanks: Ant