Community Bookshelf, Kansas City
Monday, 9th February 2009 by Ian Brown
The parking garage for the Kansas City Public Library may not look very special from above: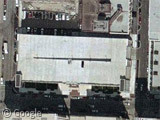 … but from street level it's a different story!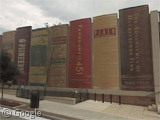 Created several years ago by design firm Dimensional Innovations, the facade of the garage portrays a 9m high 'community bookshelf'. The titles represented were selected by local residents.