Winter Olympics 2006
Sunday, 12th February 2006 by James Turnbull
The 2006 Winter Olympics kicked off the day before yesterday in Torino, Italy and the over-the-top ceremony was held in the Olympic Stadium.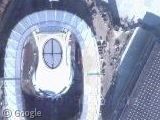 Some of the other places available for satellite spotting include the Palaghiaccio Arena (next to the Olympic Stadium, where ice hockey is played), the Athlete's Village, the Torino Esposizioni (where female hockey is played), the Speedskating Oval, the Palavela (where short track speedskating and figure skating will take place) and the Pragelato Ski Jump.
There's a few Winter Olympic Google Maps Mashups over at Google Maps Mania and the Google Blog has a KMZ file of all the Olympic locations with details of what's going on at each.
Thanks: Jayson Gabler, Patrick Gordon, Christophe Roudet, Andrea Pancotti, Daryl, Matt Witmer & Tim