Beached Whale
Monday, 13th February 2006 by Alex Turnbull
Here's a sad image of a dead or dying whale on a beach in South Africa. It seems that people are having to try to save beached whales increasingly often, and sadly there's some suggestion that our marine sonar systems could be at fault.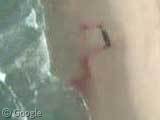 More information on beached whales at Wikipedia.
Thanks to adam lewis.