Whale and Calf
Tuesday, 3rd October 2006 by Alex Turnbull
On the shores of the San Ignacio Lagoon in South Baja California, Mexico, we find a fittingly enormous geoglyph of a female gray whale and her calf.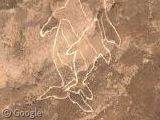 The San Ignacio Lagoon is part of the Vizcaíno Biosphere Reserve which is Mexico's most recent wildlife refuge. This giant drawing is probably part of the Whale Sanctuary of El Vizcaíno, where Grey Whales and many other species live and breed, undisturbed and in a protected environment.
Thanks to Julio Izquierdo.