Ribcage and Cheesestick
Monday, 2nd October 2006 by Alex Turnbull
As visitors to Melbourne travel along the city's new CityLink motorway, they're confronted by 39 giant red poles lining the road, and an enormous yellow pillar tilted precariously over the traffic below. Officially named the 'Melbourne International Gateway', the locals have taken to calling these the Ribcage and Cheesestick.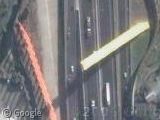 I'm a little unclear as to what a 30 metre high ribcage and a 70 metre cheesestick are supposed to say about Melbourne, but it sure looks pretty cool.
A little further south there's also a huge semi-transparent tube built over the CityLink, which was designed to reduce noise pollution to nearby housing. Of course, the tube has earned its own nickname, having become known locally as "Jeff's condom" – after Jeff Kennett, the state Premier when the humungous sheath was built.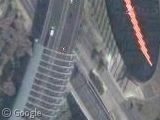 Thanks to Catherine.