Dead Sperm Whale
Thursday, 18th September 2008 by Alex Turnbull
The latest imagery update has now arrived on Google Maps, and with it comes this rather sad image of a beached Sperm Whale on the island of Hjelmsøya, which is off the coast of the extreme north of Norway.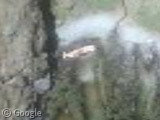 According to gyrrus, who found the image of the whale:
it probably drifted onshore already dead … and was removed by the Norwegian Coast Guard a week or two after this image was taken.
This isn't the only example of a dead whale found in Google's imagery – all the way back in February 2006 we posted this image of a bleeding whale on a beach in South Africa.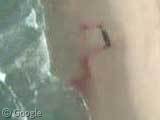 We also previously featured a couple of pods of very-much-alive whales, as well as a roundup of some of the best fake whales across the globe.
Thanks to gyrrus.