Flying Car
Sunday, 5th March 2006 by James Turnbull
Please note that some or all of the objects mentioned in this post are no longer visible on Google Earth or Google Maps.
A few weeks ago various news sources picked up the story of a Flying Car in Google Earth. It looks to me like it's more hovering than actually flying but it definitely resembles a normal car, although I can't be certain if it's a DeLorean or not.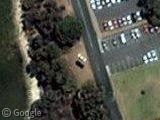 To feed the conspiracy theorists commenter Roy has discovered that this is not an isolated case as there's another example further to the south. Do you all still think it's a canopy?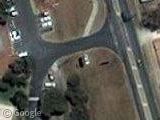 Thanks: DJ Swammi & Roy