Big Brother 7 UK
Thursday, 18th May 2006 by Alex Turnbull
Update: For anyone who watched the first episode, can I just say... Oh. My. God. I really do despair.
Oh blimey. Is it that time of year again already?
This year, they've gone and hidden 100 golden tickets in special Kit-kat bars around the UK, all of which go on sale tonight at 10.30pm. From all the people who find the tickets, one lucky winner will be selected at random to become the very latest to enter the Big Brother house.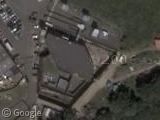 To the north of the building you can see the audience barriers which the contestants will walk between on their way in, the stage they pose on (that's the white splodge), and the steps up into the house itself. They change the layout of the interior and garden every year, but you can compare this to any of the last 4 floor plans if you like!
Thanks to Pete and his wife.