Navy Training Centre
Friday, 19th May 2006 by James Turnbull
The Navy Training Centre in San Diego is a closed facility that is currently being turned in to a shopping centre so there's not much to see, except for the USS Recruit – a destroyer that seems to be a little out of place.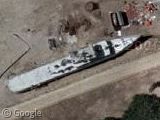 The nearby Naval Outlying Field (NOLF) Imperial Beach has various features for training up Navy SEALs for combat. For a start there's a grid layout to the north, which is a fake city used for MOUT training (that's "missions on urban terrain" for the rest of us).
South of that there's also a disused "Elephant Cage" radio station, similar to the previously posted one at Elmendorf Air Force Base.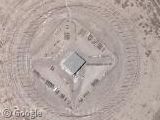 But what's most interesting is that beside some white tents and an archery range further south we see that, using Alien technology first harnessed by the Australians, the US Navy has developed flying pyramids! (or perhaps covered climbing towers).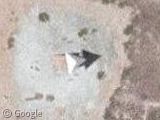 Thanks: Tom Barr & jmauro