AWACS
Thursday, 8th June 2006 by James Turnbull
Today we're looking at E-3 Sentry AWACS (Airborne Warning and Control System) planes - they're really just Boeing 707s with a 9.1m diameter rotating radar strapped onto the back, which provides airborne surveillance and battle management.
Starting in Britain there's an E-3 Sentry at RAF Mildenhall. This is one of seven that the RAF purchased and named Happy, Sleepy, Sneezy, Grumpy, Dopey, Bashful and Doc.
Hopping over to France we see 3 of 4 E-3s owned by the Armée de l'Air.
Further afield there's Khorat airfield in Thailand. I think this is actually a US E-3 and part of "Cope Tiger", an annual, multinational exercise for practising interoperability with U.S. Forces. There's also various fighter planes to see just to the South.
The US Air Force owns 34 E-3s in total and 28 of them are stationed at Tinker AFB (although I only count 13). Tinker AFB's claim to fame is that in 1948 the first ever Tornado warning was issused from here (about 3 hours before it hit).
Also worth seeing while we're in the area is another Children's Play Area and B-52 and B-1B bombers which, according to submitter "West," are being refitted with new electronics to allow them to carry and drop JDAM munitions.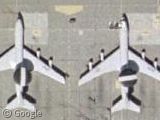 Thanks: Don Mecoy, Mike, DFarmer, DDA, Grant hutchins, West, pooms, CraX & teuf