Berlin Luftbrücke
Thursday, 5th January 2006 by James Turnbull
In 1948 the Soviet Union occupied East Berlin as well as the East German territory surrounding the city, so the Allied controlled West Berlin was completely landlocked by Soviet control. When the Soviets blocked all rail, road and waterway traffic into the West Berlin region the Allies began the Berlin Luftbrücke, or Air-bridge, where all supplies that the Berliners needed were flown in, at a cost of over $224 million for the 15 month campaign.
The monument to this operation is in two parts, one in Berlin and the other in Frankfurt, where half-bridge stone structures curve up towards each other. The first part is within Berlin, I know it might look like a white splodge but this ground level shot should help you decipher the satellite image. Just to the East of the monument is Tempelhof airport, where the frequent planes landed. On the monument's plinth is the names of the 78 crew and groundstaff who died during the operation.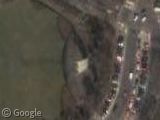 The Frankfurt half of the bridge is located outside Frankfurt Rhein-Main airport between a DC-4 (South) and a DC-3 (North) aircraft which carried the goods and are now on permanent display (ground level shot). Locals referred to the planes as "Rosinenbombers" ("Raisin Bombers") as they often contained sweets for the children.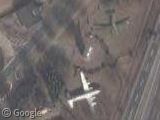 Thanks: Daniel