Soviet War Memorial, Tiergarten, Berlin
Thursday, 10th November 2005 by Alex Turnbull
This is the Soviet War Memorial in Tiergarten, Berlin. The inscription on the side of the memorial reads:
Eternal glory to heroes who fell in the struggle against the German fascist invaders for the freedom and independence of the Soviet Union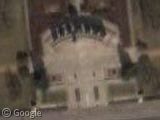 The memorial consists of a semi-circular set of arches and is topped with a bronze Russian soldier. It's also flanked by what are supposedly the first two Red Army tanks to enter the city in 1945 (you can just make them out at either side of the bottom of our thumbnail).
This memorial is just one of the many reminders of Berlin's liberation from Nazism by the Red Army, and the presence of Russian troops in East Berlin until 1994.
Here's a site dedicated to war memorials which has some good ground-level shots and some atrocious spelling.
Thanks to Adam Parker, Thomas, Heath, Thomas Ãœbermeier, Michael von Klitzing, Paul, Jim Rittenhouse, Michael and Matthias.