Mid-air refuelling
Monday, 26th June 2006 by James Turnbull
Over a seemingly dull field in California we find an unusual sight - a mid-air refuelling of a C-5 Galaxy by a smaller KC-135! Very, very cool.
The image ghosting is caused by the way satellite photographs are taken in two parts; one is high-resolution, but in black and white, and the other is a lower resolution but captures the colour. The second image is then sharpened with the first to create the colour images we see in Google Earth.
However, in the case of planes in flight, the plane has moved slightly between the two photographs. Now if we just knew how many milliseconds apart the two images are taken you could calculate the speed of the aircraft.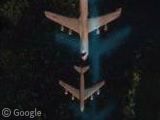 Thanks: Hoppilpolia, rob, chewbaccawokka, Ant, Frank and of course, Helomech from the Google Earth community.