Fort Boyard
Thursday, 5th October 2006 by Alex Turnbull
Brand new on Google Maps/Earth this week is Fort Boyard, located between the Île d'Oléron and the Île-d'Aix in the Pertuis d'Antioche straits, on the west coast of France. It was designed to bridge the gap between the two islands, as the cannons of the time couldn't protect such a large space.
Construction began under Napoleon in 1801, but unfortunately wasn't finished until 1857 - by which time the range of cannons had increased, and the fort was utterly redundant.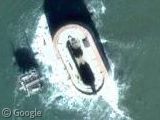 Which is a bit like buying a PC that has become obsolete by the time Windows is finished installing. The parallels continue in fact - seemingly for lack of any better ideas, Fort Boyard eventually became a prison. 😀
Fort Boyard is certainly a scary looking place - although these days mostly for the thought of the truly terrible TV show of the same name that's now filmed there (the oil rig type structure on the west side was built for the TV crews).
Thanks to Yuri.
P.S. There's loads of new stuff being uncovered by this week's image update, so why not see if you can grab yourself an exclusive, and get submitting those sights!