Funerals
Tuesday, 10th October 2006 by Alex Turnbull
With the continually increasing quality of images on Google Maps/Earth, it's hardly surprising that the cameras are capturing ever more private moments of people's lives. Perhaps then it was only a matter of time before the very end of someone's life was published on the Internet for the whole world to see.
Here's two examples of funerals taking place, one in the Queen of Heaven Cemetery, Chicago, and the other at the Gate of Heaven Cemetery, Washington DC Silver Spring, Maryland. In both shots you can see a crowd of mourners surrounding the grave and also the funeral procession parked nearby.
Update: From the comments, Chris pointed out a third funeral in progress at the Holy Cross Cemetery, Colma, CA (where several notable San Franciscans are buried, including Joe DiMaggio).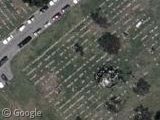 Thanks to Yoshi, Don Bruns and Chris.