Walk of Ideas
Sunday, 8th October 2006 by James Turnbull
The 'Walk of Ideas' was an 'art project' throughout Berlin which was put in place of the World Cup earlier this year. The 6 sculptures promoted the best of Germany, and not very subtly provided advertising for the project's two main sponsors.
To start with, parked outside Berlin's Brandenburg Gate, there's a 2.5:1 scale model of an Audi TT. The foam sculpture is called "The Automobile" and was of course designed and built by Audi.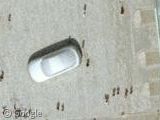 Adidas very kindly provided a gigantic pair of Adidas football boots called ""Innovative Football Boots" to leave lying around on the grass. How kind of them to provide this huge piece of advertising?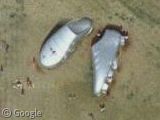 I'll post another couple of the sculptures tomorrow.
Thanks: ZoroZ and Me.