Addis Ababa-Bole Airport Crash
Friday, 8th December 2006 by James Turnbull
Please note that some or all of the objects mentioned in this post are no longer visible on Google Earth or Google Maps.
This post was updated 29th July 2007
On the 19th of June 2005, a Mahfooz Aviation Boeing 707-347C crashed while landing at Addis Ababa-Bole Airport in Ethiopia. Luckily all 5 crew survived, but the aircraft was written off.
Although I could be wrong (hey, it's happened before), I believe that this Google Earth satellite photo shows the wreckage of that exact crashed plane!
So, what's my proof? Firstly, the original Google Earth satellite photo was dated as November 2005 and the June crash is the only Addis Ababa-Bole Airport incident listed on the Aviation Safety Network for the whole of 2005.
For further proof I measured the wingspan of the crashed plane using the Google Earth ruler, and it more or less matches the 44.42 m wingspan of a 707-320B.
In December 2006 we took the following screenshot from Google Earth, which showed the plane's fuselage as little more than a pile of rubble.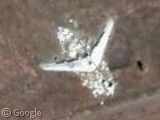 The next screenshot was taken in July 2007 when Google Earth's imagery for the region had been updated.
This shows the fuselage of the plane complete, with the tail section broken off and lying to the side. There is clearly a path of debris leading off the runway, confirming the crash was a runway mishap.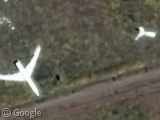 I would guess that the Google Earth image "update" was actually a regression in time, and the second photo shows the plane before it had been dismantled (probably to clear it away).