Downed Aircraft from 1981
Monday, 30th July 2007 by James Turnbull
Back on May 1st 1981 a de Havilland Dove twin-engine aircraft was leaving Sebring, Florida for Miami and suffered an engine failure.
The pilot was forced to crash land in a nearby field and the aircraft ended up in the shallows of lake Istakpoga. Luckily all the crew walked away unscathed.
What's surprising about this story is that, 26 years later, the plane is still there. Presumably recovery from the lake was too expensive for the owner so it has been left for the fishes.
You can see a closer aerial shot of the plane (complete with graffiti) on Air Britain.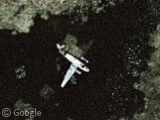 Previously on Google Sightseeing: Mystery Plane Crash and Addis Ababa-Bole Airport Crash (recently updated).
Thanks: JesterDan001