Happy Valentine's Day!
Thursday, 15th February 2007 by Alex Turnbull
It's still the 14th of February for another hour in some time zones, so we'd like to wish everyone a Happy Valentine's Day with this heart-shaped swimming pool in Belgium!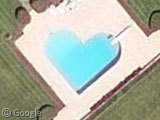 Yes okay, that's a stretch. In reality the only places to actually use UTC minus 12 hours are the uninhabited American territories of Baker Island and Howland Island in the Pacific Ocean (links are to Wikipedia).
As for the islands themselves, Baker has no coverage unfortuantely, but 68 kilometres to the north, Howland is captured with excellent quality imagery.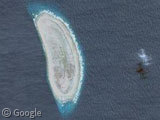 Not that there's much to see of course. In fact other than using UTC-12, the only likely reason you might have heard of Howland Island is that this is where noted American aviator Amelia Earhart famously failed to reach during her attempt to make a circumnavigational flight in 1937.
Thanks to virtualglobetrotting.