Jamesburg Earth Station
Monday, 23rd April 2007 by Alex Turnbull
This is the 30-metre wide satellite dish of the Jamesburg Earth Station. Originally built in 1968 to support the Apollo 11 moon landing, the Earth Station was shut down in 2002 and put up for sale.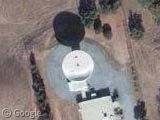 It was subsequently bought by a group of Ham-radio geeks, who spent several months restoring it - and in February they actually got it working, bouncing 20 radio signals off the moon.
There's a great ground-level shot at the official site, and it was Aviation Week that published the original story.
Thanks to jher via Boing Boing.