The Eden Project
Tuesday, 19th June 2007 by Alex Turnbull
Here in sunny Cornwall, England, is an absolutely fanastic-looking environmental complex - The Eden Project.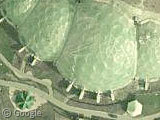 Built inside an old china clay quarry, the complex includes two sets of giant interconnected transparent domes made of ETFE cushions1 (each emulating a natural biome), that house plant species from around the world. The larger of the two biodomes emulates a tropical environment, and is 55 metres high, 100 metres wide, 200 metres long, and covers 3.9 acres - which makes it the largest greenhouse in the world!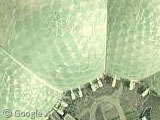 Not intended as a theme park, the Eden Project instead aims to highlight today's major environmental issues, and they set a good environmental example too - the project's energy all comes from local wind turbines, their litter is all recycled, and the massive quantity of water they use (to create the humid conditions of the Tropical Biome), is all collected rain water.
There's actually a concert stage here (which doesn't seem to have been built yet in these images), which was the location of the "Africa Calling" part of the worldwide Live 8 concerts of 2005, and the biodomes also feature in the 2002 James Bond movie, Die Another Day.
You can read more about The Eden Project at Wikipedia, visit the offical site, or to see more biodomes, see our older posts on Île Sainte-Hélène, a Geodesic Dome and Biosphere 2.
Thanks to Tom and Anthony Houghton.
---
This is the same material which is used to cover Munich's Allianz Arena, and also to create a 20,000 metre² window in the staggeringly huge Tropical Islands in Brandenburg. ↩︎