The New Wembley Stadium (Under Construction)
Monday, 11th June 2007 by Alex Turnbull
As the image updates that we reported last week have now made it to Google Maps, there's now almost complete coverage of the whole of England, and we've had a ton of great locations submitted. So to kick off we're starting in the capital, London.
This is London's brand new Wembley Stadium, which although still under construction in these images, has been officially open since March 2007 (albeit a year late). It cost a staggering £798 million (about $1.57 Billion U.S.), which makes it easily the most expensive stadium ever built,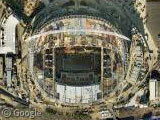 It's an all-seated 90,000 capacity stadium (which makes it the second largest capacity stadium in Europe1), and is protected from the elements by a sliding roof – which gives it the largest roof-covered seating capacity in the world (fortunately, the stadium also contains more toilets than any other venue in the world – 2,618 in total).
The white arc on the north side of the thumbnail is a gargantuan arch which supports the whole weight of the north roof and 60% of the weight of the southern side's retractable roof. It's 7 metres wide and spans some 315 metres, incredibly it stands at 22° from vertical and still rises to 140 metres!
According to Guinness World Records 2006, this arch is the world's longest unsupported roof structure.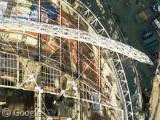 Nearby we can also see the White Horse bridge, so named after a Metropolitan Police horse that was used to restore order after ~200,000 spectators, who turned up to witness the 1923 FA Cup final, spilled onto the pitch before kick off. (Wikipedia)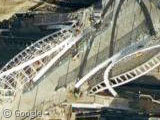 P.S. Apologies for the downtime recently, we're still trying to iron out issues with our new forums.
Thanks to Kerry and AndrewAnorak.