Portrait Paintings in Google Earth
Wednesday, 1st August 2007 by James Turnbull
Your average portrait painting isn't very large or, in the case of the Mona Lisa, it's surprisingly tiny. That said, we have found one or two giant portraits which are viewable from above.
To start, Anne Frank can be seen painted on the playground of Anne-Frank-Realschule, a German Six-form high school.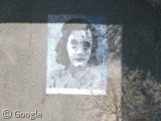 Still in Germany, we can see a likeness of Wolfgang Amadeus Mozart painted in chalk outside Cologne Cathedral. I think someone should head down there and put some money in the guy's hat.
Our last portrait we have to admit isn't actually a portrait painting, but may well be a reproduction of one of Picasso's paintings through the medium of field.
I've found suggestion that the original is a portrait of Marie Therese Walter but that might be a red herring, as I can't find any portraits of her that even resemble the field.
Can anyone do any better?