Air Force One
Wednesday, 9th January 2008 by Rob
Air Force One is the callsign for any aircraft that has the President of the United States on board, most commonly one of two specially adapted Boeing 747s.
One of them is seen here in Yuma, Arizona, where the President was making a speech about Immigration Control on May 18, 2006 (Yuma is on the US/Mexican border).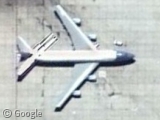 (Incidentally, there are lots of Police closing all of the roads south of Yuma on Avenue B, so the President's motorcade must be around there somewhere!)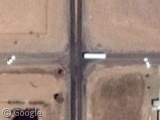 The fleet consists of two Boeing 747-200B aircraft, designated VC-25, specially fitted to enable the President and his entourage to conduct its business from the air. Inside, there are separate areas for the media, Secret Service and the President's family, which includes bathrooms and dining quarters. Unlike a regular Boeing 747-400, the VC-25 can refuel in midair.
Usually its home is Andrews Air Force Base, Washington DC. The 'President's Wing' can hold both of the VC-25 aircraft, as well as 3 Marine One helicopters.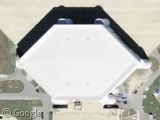 In order to train the Secret Service how to protect the President when he is onboard, there is a mockup VC-25 at the James J. Rowley Training Center, near Washington DC, as well as a mockup of Marine One next to it. Once in the air however, it's up to the anti-missile systems and electromagnetic pulse resistors to keep it safe.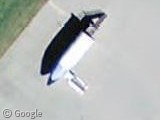 Naturally, there is much more information on Air Force One over at Wikipedia. There's even a nice floor plan available. If you really want to get a good look inside, the film Air Force One is said to have a particularly accurate recreation of the interior.
Thanks to Aaron, Adam J, Airman, [email protected], Dan Hadad, david, gmr2048, KLashNekOff, PapaPenguin, patrick, PoopyPants, Rob, Siavash Shiva, SnowManson, Stephan, Tim, Travis Mitchell and TVGenius.