Giant Dog Terrorizes Florida Suburb
Thursday, 10th January 2008 by Alex Turnbull
Aaiieeeee! Run for the hills! There's a Monster Dog on the loose!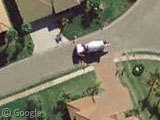 Apparently our submitter found this mega-pooch while she was looking at real estate listings in the area – but says that she's no longer sure if she wants to live in an area that's terrorized by giant dogs.
However, here at GSS, we reckon a guard dog of that size would be a pretty effective burglar deterrent…
Thanks to Christina Ross.