Maglev Test Track
Thursday, 3rd January 2008 by Alex Turnbull
Between the cities of Lathen and Dörpen, Germany, lies the Emsland Transrapid Test Facility - a 31.5 km long elevated track built to test trains propelled by magnetic levitation - a form of transportation that suspends, guides and propels vehicles using electromagnets to keep them floating just above the tracks.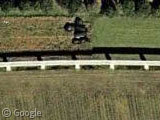 The trains developed here have only been put into commercial operation once, between Pudong International Airport and Shanghai, but they've achieved speeds in excess of 500 km/h during testing, and in normal operation have a maximum speed of 431 km/h (268 mph).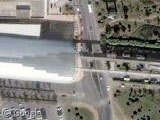 The test track consists of two huge loops, one at Dörpen which is connected to the other at Lathen, and on the day these images were taken, a Transrapid is visible on the northern loop. Looks like it might be going pretty fast too.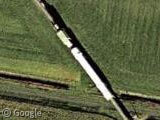 Sadly the first ever fatal accident involving a Maglev train occurred at Lathen in September 2006, when a Transrapid train collided with a maintenance vehicle, killing 23 people.
Read more at Wikipedia about Magnetic levitation, Magnetically levitating trains, the Transrapid system, the Emsland test facility, the 2006 Lathen maglev train accident and the Shanghai Maglev Train.
Thanks to Winchester, Jan Brasna